Aluminum coil of the application and classification
Views:0 Author:Site Editor Publish Time: 2021-06-04 Origin:Site
Color-coated aluminum coil, as the name implies, is the paint coloring treatment on the surface of the aluminum substrate. The common fluorocarbon color coated aluminum coil, polyester color coated aluminum coil, is widely used in aluminum plastic plate, industrial plant roof wall, aluminum louver, composite plate, aluminum ceiling, cans, electronic products.
Color coated aluminum coil coating is divided into: polyester coated aluminum coil (PE), fluorocarbon coated aluminum coil (PVDF).The polyester coating formed by baking and coating the surface of the aluminum plate for many times can form a strong adhesion of the continuous solid film with protective decorative characteristics.Is a kind of anti UV ultraviolet coating, polyester resin is used in the main chain containing ester bond of the polymer as monomer, add alkyd resin, ultraviolet absorbent according to glossiness and can be divided into sub - gloss and high gloss series.Can give color aluminum supplies rich color, and has good gloss and smoothness, and superior texture and feel, can also increase the level of sense and three-dimensional sense.It can protect objects from exposure to the atmosphere, ultraviolet radiation, wind, rain, frost and snow freezing attack;The coating is protective due to temperature differences, freeze-thaw cycles, corrosive gases and microorganisms.It is especially suitable for interior decoration and advertising board.
Fluorocarbon Coated Colored Aluminum Coils (PVDF):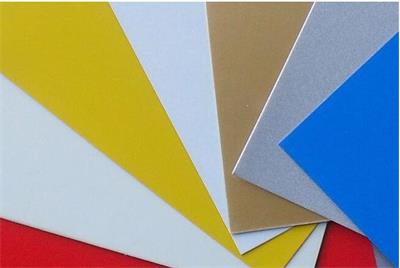 Fluorocarbon coating is PVDF resin mainly refers to vinylidene fluoride homopolymer or vinylidene fluoride and other small amount of copolymer containing vinylidene fluoride monomer coating.The chemical structure of the fluorine acid base material is bonded by fluorine/carbonation bond.The stability and firmness of the chemical structure make the physical properties of fluorocarbon coatings different from those of ordinary coatings.In addition to the mechanical properties of wear resistance, impact resistance has excellent properties, especially in the harsh climate and environment shows a long-term anti-fading, anti-ultraviolet properties.After high temperature barbecue film forming, the molecular structure of the coating is compact and has super weather resistance.Fluorocarbon coatings can be divided into traditional fluorocarbon coatings and nano fluorocarbon coatings according to the film forming structure of the surface.In 1965, Pennwalt Chemical Company first used fluorocarbon coatings to meet the needs of high-grade buildings for indoor and outdoor aluminum coating. The wide choice of colors, American decorous appearance, and durability have added luster to many magnificent curtain wall buildings around the world.Coating manufacturers began to guarantee the service life of the coating from 10 years, 15 years to ensure more than 20 years.The research of fluorocarbon coatings and super coating, coating tested compared commonly, coating samples respectively in the United States, Florida hot sun, and under the humid environment containing salt air exposure for 12 years, proves to be of fluorine carbon coating stability and durability, 30 and 80% more than the other two kinds of coatingFluorocarbon coatings ensure use in all harsh environments.
It is especially suitable for indoor and outdoor decoration in public places, commercial chains, exhibition advertising and other decoration and display.